Hops Drying Floors
Learn how small- to mid-sized farms are scaling production with DIY drying floors
Build your own commercial-grade dryer using Modular Floor Panels from HopsHarvester™.
Implementing an effective drying process is a challenge for most farms due to varying environmental and production conditions.
A multi-tier vertical drying system is a scalable solution for increasing drying capacity, conserves floor space, and may be configured as needed to dry small or large batches.
Unlike other prescribed drying systems that are expensive and offer limited flexibility, a custom-built dryer provides better control of operations, product quality, and is simple to construct with Modular Floor Panels.
Each panel consists of "trap-door" style gates that mix and result in uniform moisture-content when transferring product from one level to the next. The gates eliminate the need for repeated positioning of shelves, bins, or raking required by other drying methods.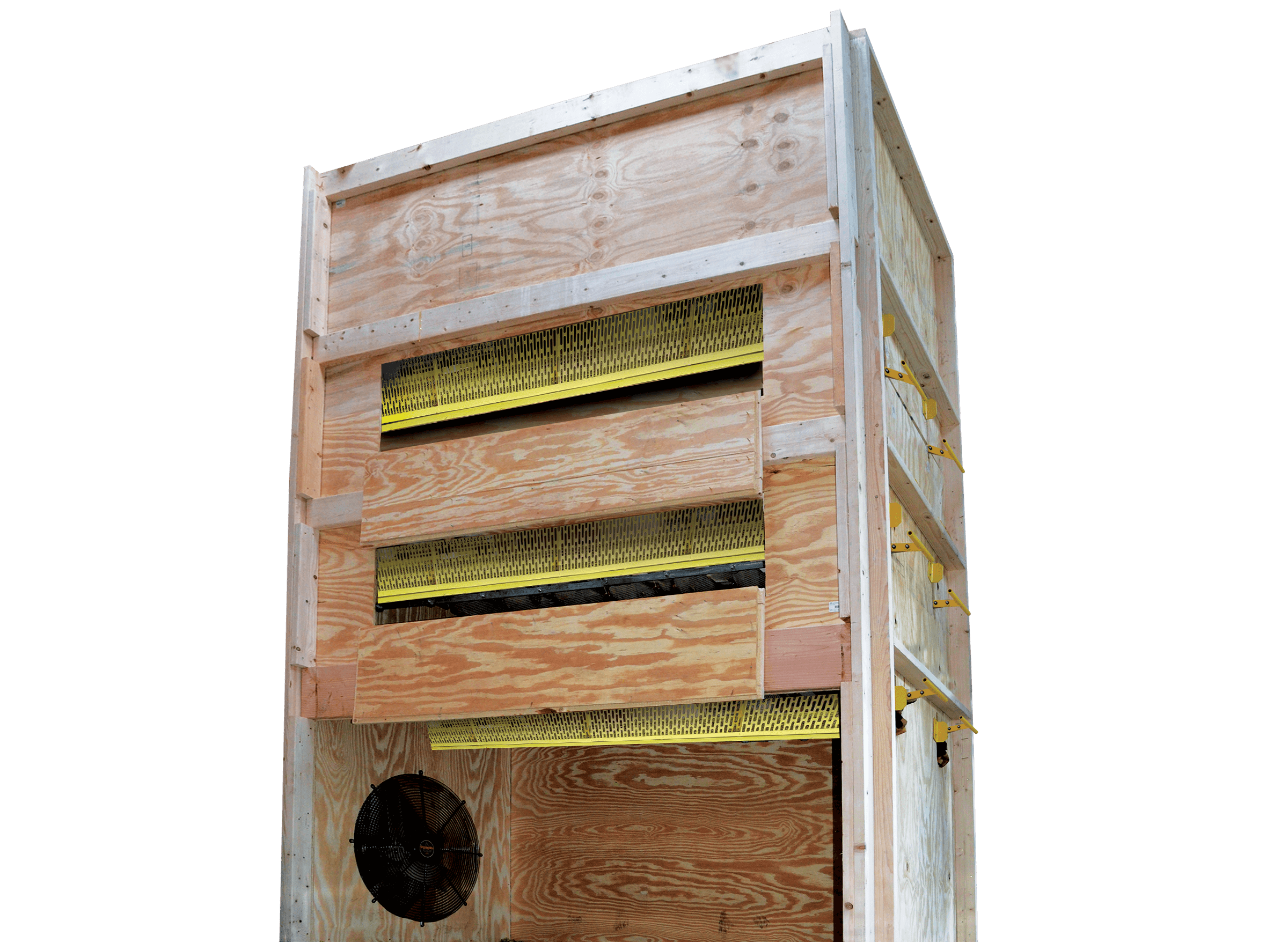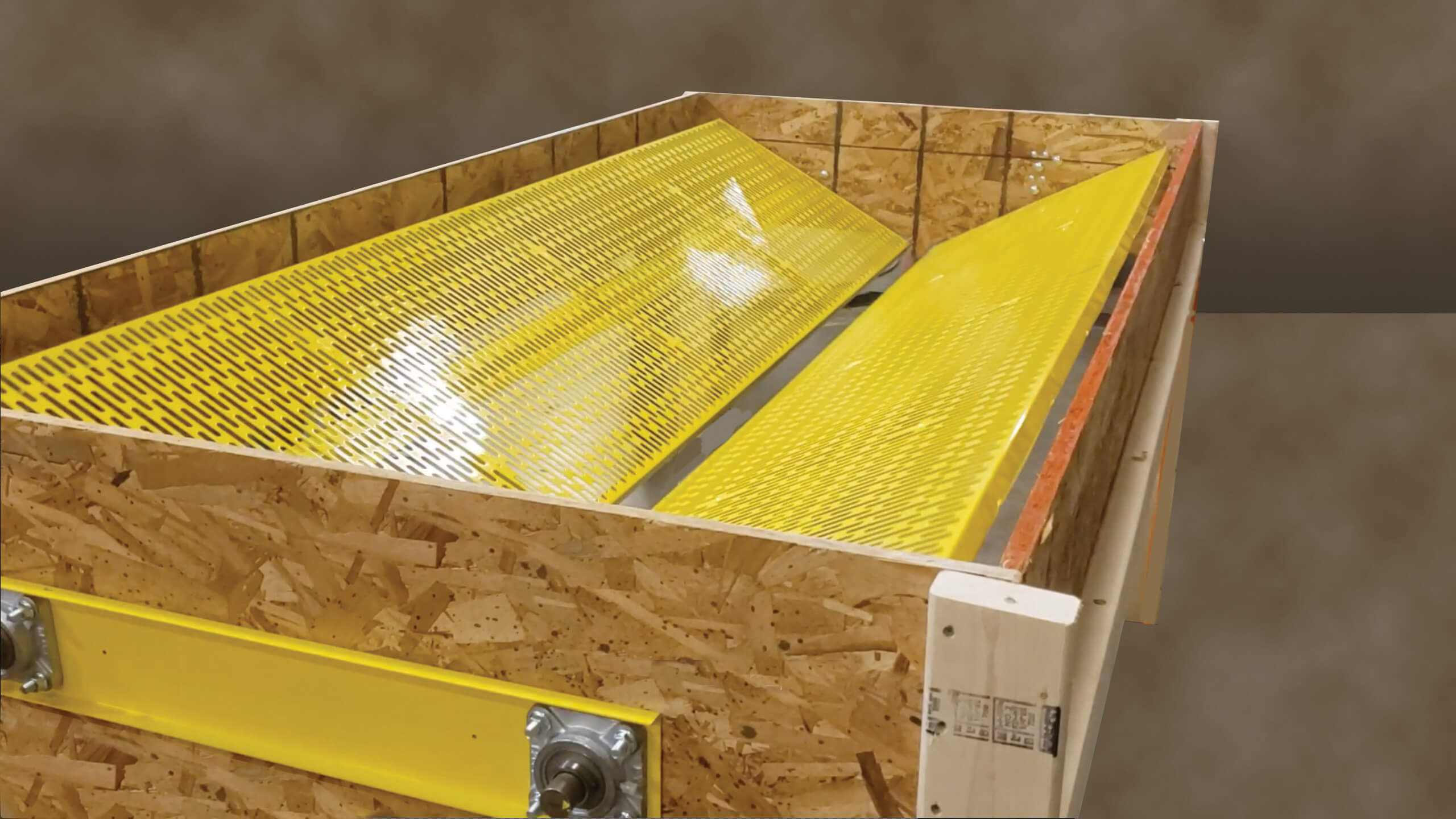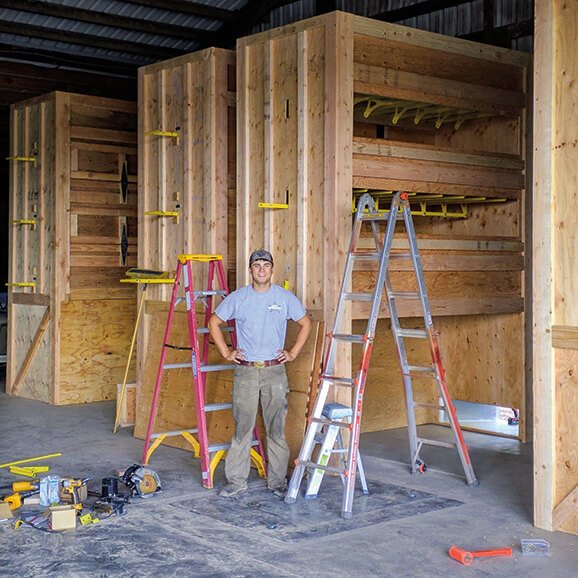 DIY Drying Floor Benefits

Match Harvesting Output
Our DIY system allows growers to match harvesting output and continuously process product to preserve quality.

Scalable Solution
Drying racks can be daisy chained to increase dryer capacity at any time, giving you the ability to grow production whenever you need.

Cost-Effective
The Hops Harvester DIY Drying racks are a more affordable option to new or refurbished dryer alternatives.

Easy Maintenance
DIY drying floors are built with standard components that are easy to maintain, minimizing downtime and keeping your equipment operating during peak season. 

Conserves Floor Space
DIY drying racks can stack on top of each other, saving your valuable floor space for other critical business operations.

Adaptable
Racks can be easily adapted to existing infrastructure and facilities, giving you a smooth transition to a better solution.
Request More Information On Hops Harvesting Equipment
Fill out the form to receive additional information and pricing for hops harvesting equipment
Also Available Through HopsHarvester

Hopster Harvester
Hopster portable harvesters provide the freedom for small farms to harvest when hops are at their peak. Available as a PTO-powered implement (Hopster 5P) or as a self-powered unit with gasoline motor (Hopster 5G), hops can now be picked and cleaned in the field with less hassle than transporting bines to a facility, and at speeds up to 100x faster than picking by hand.

20-lb and 100-lb Balers
Make 20- or 100-lb bales easily and affordably with a B20 or B100 hop baler. Small farms now have an effective way to package hops after drying and to conserve cold-storage space when preparing delivery to brewers or processors. These hydraulic balers may be powered by tractor, shop supply, or optional power unit, and are built to be easily shared and transported between farms. The B100 baler may be set up with a feed-conveyor for high-volume production.
What Our Customers Say About Us
We shared the Hopster Harvester with 6 or 7 of our members last year and it did wonderfully. It worked out better than any of us imagined. We were concerned with the logistics of moving it from farm to farm, but it worked out great. The guys at HopsHarvester also bent over backwards to make our experience as good as it could be. Good guys, good stuff.
Request More Information On Hops Harvesting Equipment
Fill out the form to receive additional information and pricing for hops harvesting equipment
About HopsHarvester
HopsHarvester was founded in Rochester, New York as one hops farmer's solution to a labor shortage. "I sort of got the cart before the horse," says John Bonzo, president of HopsHarvester. "We started growing hops and quickly discovered we weren't prepared to handle the harvest. We needed a harvester."
Bonzo, an industrial engineer by trade, built a rugged, low-maintenance machine that required minimal manpower to harvest his crop. He named it the Hopster Harvester.
"The idea was to minimize the amount of labor and minimize the amount of waste," said Bonzo. "It was designed to provide a means for small farmers to be profitable."
The Hopster Harvester can handle about 120 to 180 bines/hour, which equals approximately one acre of hops. Along with the Hopster Harvester, HopsHarvester also offers modular oast floors, 20lb and 100lb balers.